Process Solutions Index
Enquiries
If you have any questions about products featured on this site, or on products that you cannot find on this site, please contact us and we will be happy to assist you in any way that we can. We have a team of technical sales specialists who are waiting to hear from you!
Contact Us
Filter Press & Solids Separation Technologies
Our filter presses are ideal for high solids separation of non-toxic feedstocks, beverage applications such as sugar syrup decolourization, HFCS (high fructose corn syrup), cooking oils, and other applications. Filter presses from the industrial line are ideal for wastewater and solids separation and recovery in metals processing applications.
Download our whitepaper on how the technology works:
There is no such thing as a standard filter press since each one is designed and scaled specifically for the task (polishing filtration, solids removal, sludge filtration, and so on), flow rate, batch size, cycle times, and solids volume. Furthermore, if filter aids (e.g. DE – diatomaceous earth, Cellulosic filter aid, Perlite) are required or carbon removal is planned, the volumes of the solids must be carefully examined to guarantee a smooth filter operation.
Below are a variety of filter presses from our Industrial range line from which you can choose from:
Plate and Frame Filter Press EFS Series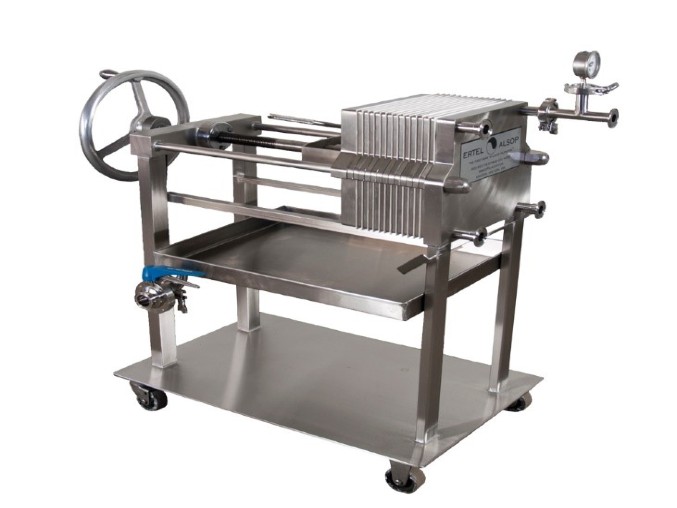 The EFS Series plate and frame filter press is internally ported and is the most economical 12-inch square plate and frame filter press we offer. The standard model EFS plate and frame filter press come mounted with our BioClean Filter Plates, and a handwheel closure with a 5 ton hand hydraulic assist.
Additionally, we can offer:
Pumps

Accessories like pressure guages, valves, etc.
Plate and Frame Filter Press EUS Series
The EUS Series is the most versatile of all the models in our line of plate and frame filter press systems. With filtration area ranging from 0.25 m2 to 13 m2, a EUS can be used in virtually any application.
Its 16 inches (40 cm) square dimension provides ample filtration area while still maintaining a manageable weight of a plate and frame filter press.
The EUS plate and frame filter press are equipped with BioClean Filter Plates as standard, eliminating all screws and internal threads, thus reducing cleaning and turnaround time.
Gaskets and washers are not required with our internally ported design making them very economical to use.
Dewatering Filter Press Systems Model EA 470 and 630 Series
Model EA 470 and 630 Series Dewatering Filter Press systems are used in a wide variety of applications. Supplied with lightweight, economical polypropylene filter plates, these filters are ideal for processes that require 14 litres to 340 litres of solids handling. With gasketed plates as standard, these heavy-duty presses are ideal for all applications where leak-free processing and solids separation is required.
Dewaxing Filter Press
Our Dewaxing Filter Press offers an efficient option for lipids and fat removal and polishing dissolved Oleoresin applications.
All liquid contact components are FDA food-grade compliant and are capable of filtering solvents at -40°C. The Filter press operation requires very little operator intervention during processing and offers quick and easy solids cake removal between cycles. Pressure filtration offers fast filtration and efficient solid-liquid separation for maximum product recovery.
Specifications:
Plate size: 630 x 630 mm

Capacity: 14 l to 280 l

Filter Plates: FDA Polypropylene Caulk and Gasketed Recessed Chamber Filter plates with thorough wash porting. The standard Gasket material is EPDM.

Filter Cloth: FDA Polypropylene filter cloth, pre-installed onto filter plates

Optional Feed Pump: 1″ FDA Compliant 316SS Air-Operated Double Diaphragm Pump

Stainless Steel Wetted Path Material

Tri-Clamp Connections, Santoprene Diaphragms, Hytrel Ball Valves

170 litres per min max flow capacity