Filter Aids / Diatomaceou... Index
Enquiries
If you have any questions about products featured on this site, or on products that you cannot find on this site, please contact us and we will be happy to assist you in any way that we can. We have a team of technical sales specialists who are waiting to hear from you!
Contact Us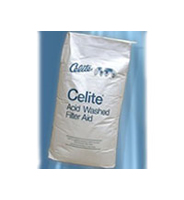 AW Celite NF
AW Celite NF Media is a high purity, direct replacement for conventional (Food Grade) Celite Diatomite filter aids. AW Celite NF media is the best choice where a high purity, USP-NF Grade direct replacement is needed for conventional food grade Celite filter aids. With the exception of the acid washing step, the AW Celite manufacturing process is similar to that of conventional Celite filter aids. This similarity produces a media that will minimize differences in filtration processes that previously used Food grades.
Studies show that after replacing Food Grade Celite filter aids with AW Celite NF media, extractable impurities are significantly reduced (Table 1).
Extractables Expressed as mg/kg of Filter Aid
Celite Standard Super-Cel®
(Food grade)
AW Celite Standard Super-Cel® NF
(High Purity grade)
Al
84.1
0.4
Ca
52.5
nd
Mg
50.5
7.4
Fe
20.0
1.4
Zn
10.5
nd
Cu
0.8
0.6
Sb
0.6
0.01
Mn
0.7
0.1
Cr
0.2
0.1
*(nd) Below detectable limit
Table 1. Extractable analysis by ICP-MS except for Fe (colorimetric complex with 1,10-phenanthroline). Extractables expressed as mg/kg of filter aid extracted from 2-g samples incubated in 100-mL solutions. Solution: 10 mg/mL albumin, 50 mM sodium acetate, pH 4.3. Incubation: 4 h, 160 rpm, 50oC.
AW Celite NF media was developed as a pharmaceutical grade CGMP alternative to Food Grade Celite. AW Celite NF media addresses the following CGMP needs that are unmet with Food Grade diatomite filter aids:
Regulatory Support

Compendial standards

Purity

Manufacturing and process control

Packaging
For more information on the differences between AW Celite NF and Food grades of diatomite see Filter Aid in CGMP Parenteral Pharmaceutical Processing: A Regulatory Perspective and Replacing Food Grade Celite® Media with AW Celite NF Media in CGMP Pharmaceutical Processes.
Intended Use of AW Celite® Media
AW Celite NF media is intended for solid-liquid separation in conjunction with a pressure filtration system. AW Celite NF media is available in a wide range of permeabilities. The least-permeable AW Celite NF Grades can remove submicron solids in filtration applications (Table 2).
Permeability and Particle Size Retention

| High Purity Grade | Permeability (Darcy) | Solids Removed (micron)* |
| --- | --- | --- |
| AW Celite Filter Cel® NF | 84.1 | 0.4 |
| AW Celite® 521 NF | 52.5 | nd |
| AW Standard Super-Cel® NF | 50.5 | 7.4 |
| AW Celite® 512 NF | 20.0 | 1.4 |
| AW Hyflo Super-Cel® NF | 10.5 | nd |
| AW Celite® 503 NF | 0.8 | 0.6 |
| AW Celite® 535 NF | 0.6 | 0.01 |
| AW Celite® 545 NF | 0.7 | 0.1 |
Table 2. *Data is provided for comparison purposes only. Depending on the compressibility of the solids, the values may range by more than an order of magnitude.