News
12th February 2019


Another successful scale-down lab scale filter press with cake squeeze installed. Flexibility to handle 0.5l to 10l solids. Use with Celpure filter aid for cell separation. Post fermentation cell mass & post extraction filtrate recovery with cake wash yield maximisation.
05th June 2018

Pure Process will be at Achema with our partners DrM showing innovative solids separation solutions and Single Use solids handling technologies. DrM are experts in finding innovative and cost-effective solutions to process challenges, be it containment, Hazchem, continuous processing and more. You will get the chance to see these high-end techniques first hand when you visit us on Hall 5.0, B16.
We are also pleased to be at Achema with our new partners in Process Water treatment and recovery, OSMO Membrane Systems. The company develops high-quality industrial membrane separation for plants in various process applications. OSMO focuses on tailor-made customer solutions, based on state-of-the-art processes, such as MICROFILTRATION, ULTRAFILTRATION, NANOFILTRATION and REVERSE OSMOSIS, including HIGH PRESSURE RO, as well as complementing process steps. Come visit us on Hall 9.1, F18 and discuss your application with the experts.
07th February 2018


A filter press is a piece of equipment designed for batch process filtration intended to separate solids and liquids using pressure filtration driven by slurry feed pumps. Filter presses have been widely used since the mid-1800s in many industries including Waste-water, Metals and Mining, Chemicals, Cosmetics, Flavors and Fragrances, Pharmaceutical, Industrial, and Beverage Markets.
Filter presses can be defined by two basic types: Plate and Frame Filter Presses, and Recessed Chamber Filter Presses. Recessed Chamber Filter Presses are a more modern design and can be further classified into three categories: Caulked and Gasketed Recessed Chamber Filter Press, Non-Gasketed Recessed Chamber Filter Press, and Membrane Squeeze Recessed Chamber Filter Press.
Want to learn more? Download the article to read it in full.
15th December 2017

Pure Process would like to thank you for your valued business this past year, and wish you a Merry Christmas & Happy New Year! We are looking forward to continuing being part of your success in 2018! We take this opportunity to inform our customers we will be closing on Friday, December 22nd for the Holiday Season and will re-open Tuesday, January 2nd. Watch the Video!
29th November 2017

Have You Seen the FFUNDABAC® in action? Containment has become a major issue throughout the processing industry. Chemical products are often of hazardous nature and to protect operators and the environment they must be contained. Due to its closed design the FUNDABAC® filter poses a minor risk. However, when the dried solids are discharged in disposable containers some kind of docking system is required. This video shows an example of a pneumatic design to seal the discharge chute with a removable container. Here during the testing phase. Watch the Video!
26th September 2017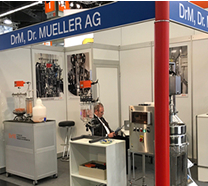 All set and a good start at @powtech. Visit us at 1-418 to see single use, contained continuous filter and Fundamix - mixing by vibration.
We look forward to seeing you there.
03th October 2016


We will be at Filtech in Cologne 11th - 13th October. Please visit us at the DrM stand C25, Hall 11.1
Simply contact us for visitor tickets. We look forward to seeing you there.
25th May 2016


Combine Fundamix® and LRA II® for effective contact time and perfect for endotoxin reduction, Lipid reduction and plasmid purification from lab to process scale: http://pureprocess.eu/Sorbents/lra.php
09th March 2016

Come and see Pure Process at POWTECH exhibition 2016, in Nuremberg. Meet us at our DrM, Dr Mueller Booth (1-418), to discuss solids separation for your industry.

POWTECH is the leading fair for Processing, Analysis and Handling of Powder and Bulk Solids.

At POWTECH trade visitors can experience first-hand an entire range of mechanical processes - together with all the technologies that support and make the processing operations more efficient, including in particular measurement technology and analytics. The analysis of powders, granules, bulk solids, and fluids not only helps to ensure quality and optimise the end product. At POWTECH 2016, experts in bulk solids and powders can learn how they can also achieve more efficient production and reduce their energy costs based on strong real-time measurement results and innovative field devices. Visit us at:

DrM, Dr. Mueller, Stand 1-418
POWTECH 2016
19 - 21 March 2016
Nuremberg
Germany
Learn more about POWTECH exhibition 2016
28th June 2012 - News from Achema
Dr. M showed a complete skid mounted Fundabac filter. This unit 6m2 is available for quick delivery and is complete with automation etc. Please contact us to discuss your application and suitability. Normally, lead times on such units are 4-7 months. (See Img 1 below)
Also launching the Vibro Mixer - a proven technology for mixing using a 1/10th the energy of conventional rotary mixers, without compromising mixing performance. In addition as there are no rotating parts, the seals are much simpler and are 100% reliable providing high containment. (See Img 2 and Img 3 below)Applications include vaccine production, BSE prion handling, sterile feed tanks, chemical reaction vessels etc. Being inherently safe, Vibro Mixers are available with full ATEX rating. With few moving parts the mixers are more cost effective, reliable in long term service and easy to maintain. The controller can be controlled by external 4-20mA signal from the PCS.
Four sizes as standard for mixing 1 - 10,000 litres.
Other industrial applications include: paint mixing, agitation in flavour manufacturing, dairy applications, OEM applications for stirred tanks etc.

Click on an image to see it in more detail...
09th May 2012


Come and meet Pure Process at the ACHEMA 2012 Exhibition at our partner's solids separation solutions stand to discuss solids separation for your industry.

We will be showing the Fundabac®, Contibac® and Steribac® filtration systems.

ACHEMA is the world forum of the process industry and the trend-setting technology summit for chemical engineering, environmental protection and biotechnology. The 30th ACHEMA will again be the leading international meeting point for decision-makers and experts from all related industries. Visit us at:

DrM (Dr. Mueller, CH) Stand B16, Hall 5.0
ACHEMA 2012
18 - 22 June 2012
Frankfurt am Main
Germany

We have day tickets to give away which gives access to the exhibition and provides the opportunity to arrange meeting time slots with industry experts.

Email us at info@pureprocess.eu for your opportunity to receive these much sought after tickets, and we look forward to meeting you there!
25th October 2011

Today we are announcing the go live date of our brand new web site for the process industry!

www.PureProcess.eu provides leading edge process solutions for the process filtration and solids separation applications in the pharmaceutical, biotechnology, food and beverage, electronics and general industrial markets. The website provides a window on downloadable resources such as product datasheets, application notes and more for process filters such as membrane cartridge filters, disposable and single use capsule filters, Lenticular and carbon filters, UV systems and solids separation equipment. More content will become available in the coming weeks.

Please check back regularly to keep up to date with all that's happening with Pure Process.

Registration for our news section coming soon...