Process Filtration Index
Enquiries
If you have any questions about products featured on this site, or on products that you cannot find on this site, please contact us and we will be happy to assist you in any way that we can. We have a team of technical sales specialists who are waiting to hear from you!
Contact Us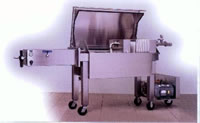 Vapour Master
Vapor-Master® Enclosed Plate & Frame Filter Presses
Through Pure Process you can avail of ErtelAlsop's Vapour-Master® series. These filter presses provide completely sealed and vapour-tight environments for filtration of harmful fluids.