Process Filtration Index
Enquiries
If you have any questions about products featured on this site, or on products that you cannot find on this site, please contact us and we will be happy to assist you in any way that we can. We have a team of technical sales specialists who are waiting to hear from you!
Contact Us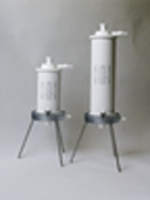 Micro-Cap Disposable Laboratory Filter
Micro-Cap™ Disposable Laboratory Filters are perfect for use in product development, small batch processing and intermediate scale-up studies. Three different sizes are available and Micro-Cap™ offer maximum flexibility in process development and scale-up.
No stainless steel housings are required which eliminates the need for cleaning validation. Connect the Micro-Cap™ directly to the downstream processing components, minimizing operator exposure to the product.
The Micro-Cap™ allows use of the various grades of depth filter media ErtelAlsop has made available to the industry for over 85 years. The Micro-Cap™ provides consistency, lot to lot traceability, in an encapsulated easy to use format.
The Micro-Cap™ allows use of the Micro-Media® XL Series or Micro-Clear™ depth filter media in an easy-to-use, self-contained and completely disposable laboratory filter capsule.
Scalability
The Micro-Cap™ series offers three choices of surface area to fit your requirements, 22.5cm2, 1,100cm2 (0.11m2), and 2,200cm2 (0.22m2). With a range of batch sizes from 50ml to 100 liters, the Micro-Cap™ is ideally sized for laboratory use and scale up for full production is easy.
Applications
The Micro-Cap™ Laboratory Filters are perfect for use in small batch processing and scale-up studies. Each Micro-Cap™ is supplied with a specification sheet packaged one Micro-Cap™ per re-sealable poly-bag, two Micro-Caps™ per carton.
The Micro-Caps™ are designed to provide enclosed, disposable depth filtration for:
Small batch fermentation

Removal of cell debris

Cell culture clarification

Serum clarification

Plasma clarification

Small Volume Parenteral prefiltration

Decolorization

Endotoxin Removal