Process Filtration Index
Enquiries
If you have any questions about products featured on this site, or on products that you cannot find on this site, please contact us and we will be happy to assist you in any way that we can. We have a team of technical sales specialists who are waiting to hear from you!
Contact Us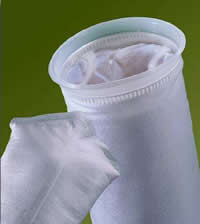 Felt Bags
At Pure Process, we start with the finest material possible. FSI produces the felt material used in our felt filter bags in-house, guaranteeing the highest quality. Our extended life filter bags provide superior filtration of all sized particles over traditional filter bags and have up to twice the dirt holding capacity of a standard filter bag.
Our no-bypass welded seams eliminate the possibility of fluid bypass through needle holes. We provide a variety of glazed and singed finishes to inhibit fiber migration. Through FSI we can also offer polyester inserted felts. These inserted felts include a reinforcing scrim needle inside the felt material to provide added strength and durability.
Features:
Broad range of proprietary media provides excellent filtration performance and greater consistency

Standard and custom sizes for versatility

Offered with plastic and metal rings for wide temperature compatibility

Welded or sewn construction

Polypropylene felt is FDA compliant. FDA compliant Polyester felt is available by request.

Easy change-out reduces down time

Compacts for easy disposal

Silicone free to prevent craters to provide better surface results

Contaminants are trapped inside bag for clearer results

Glazed finish eliminates fiber migration to reduce waste

Multi-layered bags available for greater versatility
Available Materials:
Polypropylene

Polyester

Nylon

High Temperature

Teflon
Maximum Operating Temperature:
Polypropylene: 200-220°F (93-104°C)

Polyester: 275-325°F (135-162°C)

Nylon: 275-300°F (135-149o C)

High Temperature: 400-450°F (204-232°C)